The Year of Pixie Cuts!
Pixie cuts
started to catch a wave about
a year ago
in Hollywood and still have lots of ladies pondering the thought of cutting it all off! And, when they do, they either love em' or hate em'.
Why are
pixie cuts
loved by many but worn by few? The answer is simple . . . it's the fear of the unknown. It's a big commitment to cut your hair so short. What if you hate it, there's nowhere to hide? There's not a lot of hair styling options to go to if you don't like it so short, so should you risk it?
So what should you consider before taking the plunge to a pixie haircut? A good hairdresser, especially one that knows you and your quirks, can help you tremendously. Not only can a good hairdresser help decipher if a short hair cut like the pixie cut, is right for your face shape and body proportions, but equally important, if this short short hair cut will suit your personality.
Face Shape
Oval face shapes- are ideal for pixie cuts, but other face shapes can work as well. Modifications of layering and styling to the pixie cut can be made to balance with many face shapes. Heart shaped faces are second only to oval face shapes. If the chin –line is dramatically tapered it can be offset with flicked up pieces behind the ears. Round face shapes can be balanced by creating more height at the crown and longer flipped up pieces in back or wisps on the face. An oblong face shape can be balanced by creating texture and fullness on the sides.
Pixie Haircut, Short Haircut or Mid-Length Haircut
Temper any rash decision to cut all your hair off! Cutting off all your hair is not an answer to frustrations. Discuss it with your hairdresser; bring in pictures of short haircuts and pixie cuts you like. Also bring in a couple of alternative haircuts you would consider. Sometimes going shorter in stages is a better option and may be altogether easier on your wellbeing.
Pixie cuts top the charts as a
quick and easy hairstyle
. Pixie cuts mean less maintenance; less drying and hair styling time. That has to account for one big reason women love this cut! But, one more way you can check out if you might like the pixie cut is to stop at the mall and try on a similar short wig. It won't be the exact end result, but will give you an idea!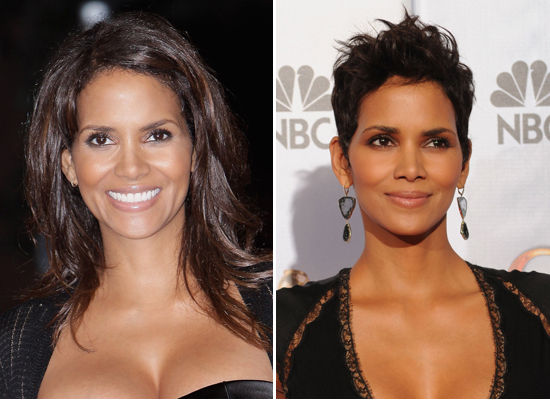 read more
Thursday, March 31, 2011 0 comments